Outdoor Obstacle Course Racing Grid

Built on the southern end of the nearly three acre parcel, the PowerCo Fitness Complex and Event Center Outdoor Grid (POG) boasts approximately, 17,000sf of outdoor turf, a multi-lane 150m Power Obstacle Course, 1/4 mile, crusher-fines, outdoor track and a hill/stair climb section.
150m Power Company Fitness Obstacle Course
The Racing Grid is a 150 meter, multi-lane outdoor obstacle course that will challenge even the most die-hard athlete.
Events like the Warrior Dash®, Spartan Race®, and Tough Mudder® have become well-known parts of the modern obstacle course racing scene.
You might think these mud-filled tests of stamina, agility, and toughness represent a new cultural phenomenon, but their roots actually trace much farther back in history. Before becoming the proving ground for a kind of sport — a challenge for challenge's sake — obstacle courses were used as training devices, designed to build the mental and physical fitness of soldiers, sailors, and marines preparing themselves for combat, as well as civilians interested in testing their mettle.
Blending the best of the obstacles familiar to the Obstacle Course Racing (OCR) community, The PowerCo Fitness Complex POG consists of nearly a dozen obstacles that must be navigated sequentially and is a vigorous test of total body fitness and high intensity cardio-vascular capacity.
Obstacle Racing Course Details
Obstacle Course Racing Wall
Cinder block drag
Bucket carry
Herculean Hoist
Tyrolean Traverse
Traversal Wall
Slippery Wall
Hobie Hop
Log Jump
Rope Climb
Tire Flip
And More
The PowerCo Fitness Complex Obstacle Course finishes with a 4 story hill climb to burn your legs to the ground (buddy-carry or weighted buckets optional). If you didn't get enough on the first lap, the course is designed for those who want to take obstacle course racing to another level. When you are ready to leave the comfort of the Indoor Training Complex, step onto the POG.
17,000sf Outdoor Turf Arena
PowerCo Fitness Complex and Event Center incorporates approximately 17,000sf of outdoor turf to support speed training, sled-pulls, sports combines and competitions that need lots of turf.
If you are tired of running on the sidewalk around your old box gym, step up to the Power Company Fitness Outdoor Training Grid.
1/4 Mile Outdoor Running Track
PowerCo Fitness Complex offers a self-contained, crushed-fines, outdoor training course that is nearly 1/4 of a mile per lap. Each lap incorporates a four-story hill/stair climb that will build leg strength, explosiveness and endurance.
PowerCo Fitness Complex Outdoor Training Grid is cleanly integrated with the Indoor training complex while removed from all vehicular traffic. Obstacle course racing athletes train safely and with the peace of mind that you never have to cross paths with a car or truck while you are focused on building a better, stronger PowerCo Athlete.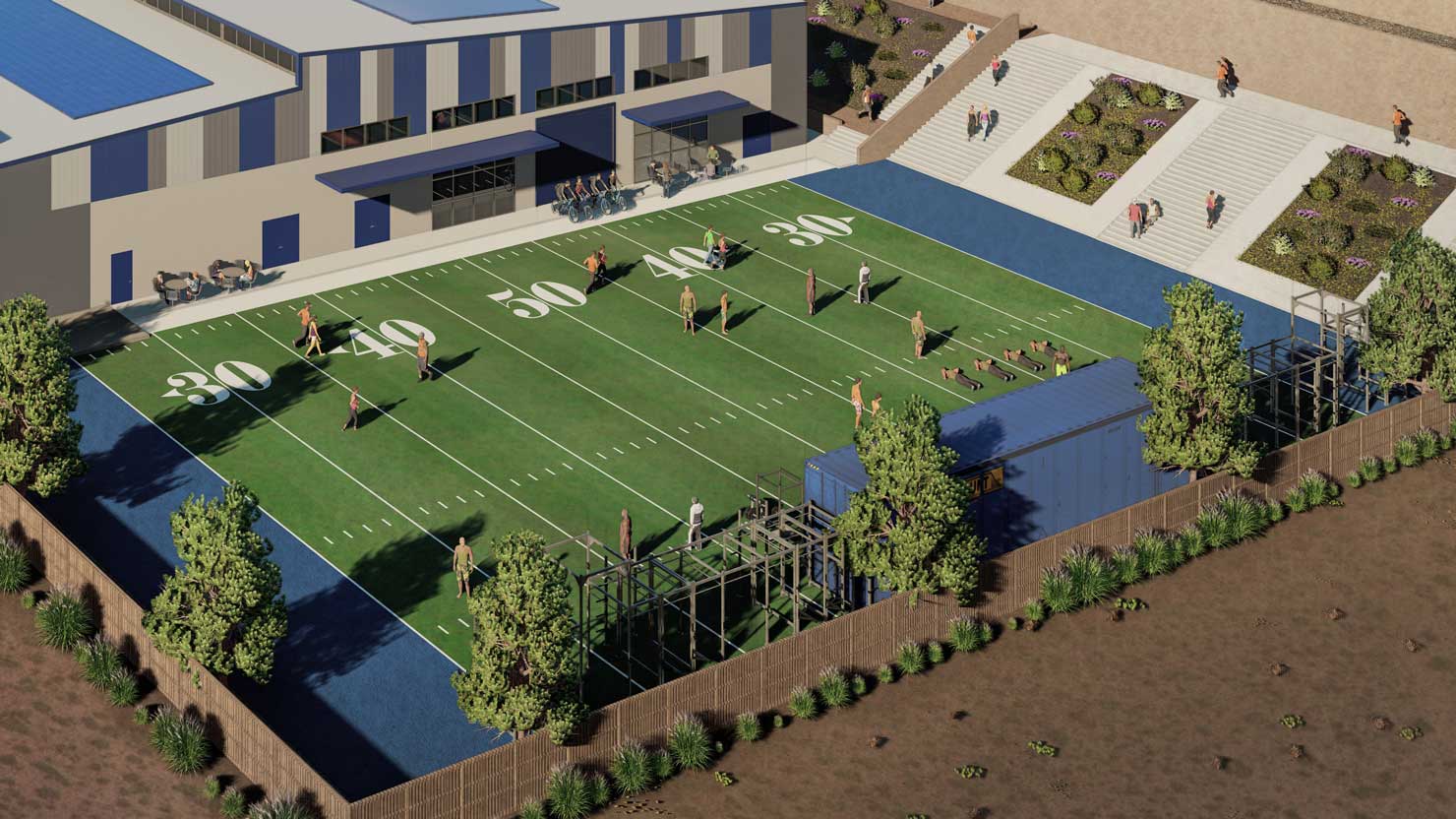 Prepare Yourself
Training Begins Fall 2021