Spin Class & Indoor Cycling Studio
The Experience
With thirty-one (31) state-of-the-art, connected Life Fitness IC7 Indoor Cycling Spin Bikes, our spin class will be like no other class you have experienced. Expert instruction, a massive video wall, booming sound system and multi-colored mood lighting to match the pace will make your ride unforgettable.
The IC7 Power Trainer Indoor Cycle
The award-winning IC7 Indoor Cycle combines a new sleek design, a two-stage drivetrain and an engaging digital experience. An extremely accurate WattRate Direct Power Meter, Coach By Color intensity guide for user and instructor, and precise 300-degree magnetic resistance make the IC7 a one-of-a-kind indoor cycle.
With greater power accuracy, wattage and performance data than any other indoor cycle, the IC7 delivers superior results for facilities running cycle-specific coaching, high-intensity interval training and endurance training.
For those riders who want to spin outside the group setting, there are six (6) IC7 Power Trainer Indoor Cycle on the 20,000 indoor main floor cardio center.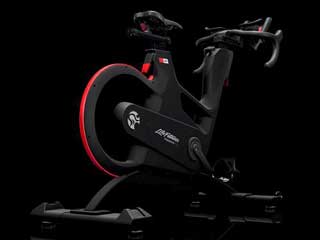 The Challenge
Each spin class is designed to push riders of every fitness level to redefine the limits of their own personal potential. Amazing instructors bring you through hill climbs, long sprints and a varied workout to create a fun and motivating experience so you can accomplish your fitness goals faster.
Safety and Wellness
Our Member's safety and well being is of paramount importance to us. With a Spin Class running all day, we ensure that each bike as 6 feet between riders. The days of being crammed into a sweaty, muggy spin class are long gone.  Social distancing has created a revolution in the fitness industry and PowerCo Fitness Complex is leading the way.
Our Commitment To Safety
Ultraviolet (UV-C) Protection
PowerCo is commited to staff and member safety through the use of facility-wide ultraviolet (UV-C) lamps and all group training rooms, including the Mat Room, Spin Studio and GroupX room.
PowerCo may be the first facility in the country in incorporate this type of comprehensive approach to sterilizing many of the commonly known pathogens throughout the facility HVAC system and on equipment surfaces. READ MORE...
Prepare Yourself
Training Begins Fall 2021